---
FDA Registration & U.S. Safety Regulation Compliance Service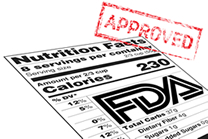 We assist with FDA registration necessary to export food, drugs, medical devices, consumer products, animal related, cosmetics into the U.S. from Japan.
Correct inspection and labels are necessary prior to importing foods, food contact items, supplements, cosmetics, pet products into the U.S.
Our experienced staff assists with the time consuming process of FDA registration. First, fill out a "FDA Registration & U.S. Safety Regulation Compliance Service" quotation request form for a free quote.
*In case the test facility requires a fee for quotations, a quotation fee will be charged.
---
STEP-1
Fill out an "Online Quotation Form"

STEP-2
Receive Testing and Labeling Requirements
After you approve the quotation amount, we will notify you of the necessary tests and labeling.

STEP-3
Mail Samples for Inspection
Send your samples to the provided address for testing. A 25%-68% discount will be applied for Amazon Sellers (the discount rate varies depending on the testing facility).

STEP-4
After testing is complete, we will send you the results. We provide any other information necessary for proper importation of your goods into the U.S.

STEP-5
Export U.S. FDA compliant products into America!
---