---
We Shop Any Online Shop in Japan For You

Ship Anywhere Japan Post Can Ship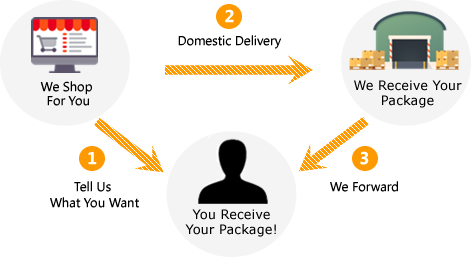 ---
Use this service when:
You don't understand Japanese, but want to buy from a Japanese online shop
You don't have a credit card that the Japanese online shop accepts
We help you get what you want from Japan delivered to your door!
Step 1 – Register & Send Security Deposit
Fill out the "Shop-For-Me Application Form"

Provide the URL of the product you want
Fill out a separate form for EACH shopIf you want to order from different shops
Provide any coupon or promotional codes beforehand

The amount due for the purchase will be charged via PayPal. (If you are not able to pay by credit card card please contact us. PayPal charges a 5% handling fee per transaction.)
After we receive your security deposit, we make the order for you
Step 2 – Order and Shipping
You'll receive your package within 7-10 days (time varies by shop)
Once you receive everything you ordered, we send you an invoice with the shipping and handling costs
We ship after we receive your payment
---
Service
Non-Membership
Membership
Shop-For-Me Fee
We buy for you, and once we receive it we check if the item matches the one you ordered (size, color)
15%
(Minimum Fee $15.00)
10% of SUBTOTAL
(Minimum Fee $10.00)
Shop and Inspect-For Me Fee
We buy for you, and once we receive it we inspect the item for any defects
$19.00
(Minimum Fee $19.00)
$14.00
(Minimum Fee $14.00)
Invoice Handling Fee
We create the invoice to ship to your country
From $5.00 (depends on item quantity)
Return Fee
If you decide to cancel the order after we receive the item
$8.00/item
Consolidation Fee
We can bundle and send your items in 1 box
Free for 1 month
(Usual storage fees incurred after 1 month)
---
Insurance:
Separate Insurance fees apply. Please contact us if you want your items shipped with insurance. Otherwise, we ship the items without insurance.
Orders:
Expedited orders for purchasing items on sale may incur extra charges.
If the order is cancelled/out of stock due to the online store after order is processed, we will refund the purchase price of the item to you less the minimum Shop-For-Me handling fee.
We are not responsible for any order and shipping delay on the part of the online store, and will not be held liable for any loss due to the delay.
Provide any coupon or promotional code information to us before we order.
We receive payments via PayPal. A 5% handling fee is due to a 5% PayPal processing fee.
You are liable for any shipping costs.
---
Any questions!?
Feel free to contact us. Our professional team is able to handle all your questions whatever you need.
1-858-715-0461
onlineus@aroundthe-world.net