---
Package Forwarding Service
We forward your online purchases from Japan right to your door.
Shop from any online shop in Japan
Receive our Japanese address to use at checkout
Consolidate your packages into one box
Ship with Lower Shipping Rates
Lower handling fees with Membership

Shop Anywhere in Japan

We Receive Your Item

Ship Anywhere From Japan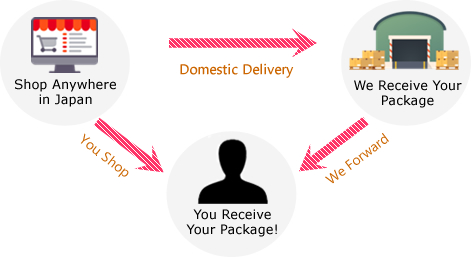 ---
Service
Non-Membership
Membership
Forwarding fee
10% of SUBTOTAL*
(Minimum Fee 1,080JPY)
5% of SUBTOTAL
(Minimum Fee 540JPY)
Per order forwarding fee
540JPY/order
When combined order SUBTOTAL is less than 10,000JPY
432JPY/order
When combined order SUBTOTAL is less than 10,000JPY
Item inspection fee
4% of SUBTOTAL
(Minimum Fee 432JPY)
4% of SUBTOTAL
(Minimum Fee 432JPY)
Consolidation fee
324JPY
Invoice handling fee
From 540JPY
(depends on item quantity)
Return goods
824JPY
*"SUBTOTAL" is the total purchase amount after any coupons or discounts deductions, and does not include Japan domestic shipping and handling amount
*Includes tax
---
Item Inspection Service Details

We compare delivered products with packing list details
We check the invoice for correct product size, quantity
Checking forfrayed, stained, or blemished clothing is NOT included in this service (Please contact us if necessary. Additional fees will apply)
We are NOT responsible for the errors of Postal Services and Carriers
Additional Information:
Insurance – Separate Insurance fees apply. Please contact us if you want your items shipped with insurance. Otherwise, we ship the items without insurance.
A different delivery address may be used for oversize products, with prior notification.
After you receive the item, we do not handle or file claims for store errors
Items You CANNOT Forward:
Spray cans
Batteries
Nail polish
Flammable items (including fireworks, flares, etc)
Drugs
Guns or imitation
Medical items
Pornographic material
Products regulated by the Washington Convention
Cash
Vouchers
Electric cigarettes
Raw meat
Meat products
Rice
Pet food
Perfume
Anything containing Vanilla
Anything containing Asbestos
---
Any questions!?
Feel free to contact us. Our professional team is able to handle all your questions whatever you need.
1-858-715-0461
onlineus@aroundthe-world.net